Purina Impact Professional Mare & Foal Horse Feed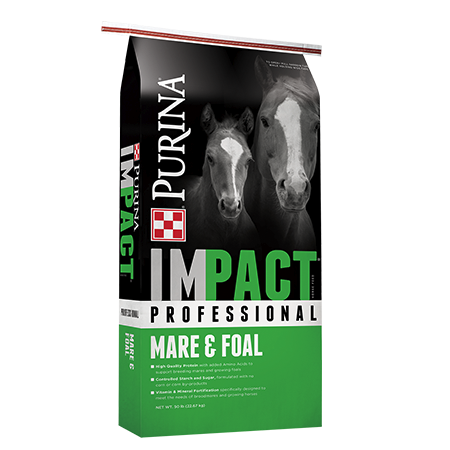 Purina Impact Professional Mare & Foal Horse Feed meets the caloric demands of breeding horses and supports haircoat shine and bloom, controlled starch and sugar, formulated with with no corn or corn-by products.  Formulated with high quality protein which adds amino acids including lysine and methionine support breeding mares and growing foals, contains vitamin and mineral fortification, and specifically designed to meet the meets of broodmares and growing horses.
Have questions? Reach out to our friendly staff at any of our local Farmer's Coop locations. Also, be sure to follow us on Facebook for product updates, news and events.
Guaranteed Analysis
Crude Protein (Min) 16.00%
Lysine (Min) 0.90%
Crude Fat (Min) 6.00%
Crude Fiber (Max) 12.50%
Acid Detergent Fiber (ADF) (Max) 15.50%
Neutral Detergent Fiber (NDF) (Max)  34.00%
Starch (Max) 13.00%
Sugars (Max) 7.00%
Calcium (Ca) (Min) 0.90%
Calcium (Ca) (Max) 1.40%
Phosphorus (P) (Min) 0.60%
Copper (Cu) (Min)  60.00 ppm
Selenium (Se) (Min) 0.60 ppm
Zinc (Zn) (Min) 220.00 ppm
Vitamin A (Min) 3,000 IU/lb
Vitamin E (Min) 125 IU/lb
Feeding
Daily Feeding Chart:
Weight of Growing Horse in Pounds*
(Weaned foal through Yearling)
300
400
500
600
700
Minimum Hay or Equivalent Pasture (lbs/day)*
3.0
4.0
6.0
7.0
8.5
IMPACT® PRO MARE & FOAL (lbs/day)**
2.57.5-8.5
7.75-8.75
7.25-9.5
7.75-10.25
8.0-10.25
*When weanlings weigh >700 lbs (for horses with expected mature weight of 1000 lbs) or are 12 months of age, change to IMPACT(R) PRO PERFORMANCE and feed as directed.
**Feeding directions for sucklings fed individually: Feed IMPACT(R) PRO MARE & FOAL at the rate of 1 lb per day per month of age until the foal is weaned.
Weight of Horse in Pounds
600
800
1,000
1,200
1,400
Minimum Hay or Equivalent Pasture (lbs/day)***
7.0
9.5
12.0
14.5
17.0
IMPACT PRO MARE & FOAL (lbs/day)****
Early Gestation (first 250 days)
2.5
3.25
4.0
4.75
5.50
Late Gestation (last 90 days)
3.5
3.25
4.0
4.75
5.50
Lactation (when fed separately)
7.75
10.25
12.75
15.25
17.75
***This is the recommended minimum amount of hay to be fed. If feeding more hay, reduce the feeding rate of IMPACT PRO MARE & FOAL by 1 lb for every additional 2 lbs of hay fed.
****Do not feed less than 0.4 lbs per 100 lbs of body weight per day (for the mare). If your mare gains too much weight at that minimum feeding rate, then you should replace IMPACT PRO MARE & FOAL with PURINA STRATEGY HEALHY EDGE or PURINA ENRICH PLUS® Ration Balancing Horse Feed.
Feeding recommendations are based on average daily requirements for horses of different body weights. Actual feeding rates required to adequately maintain good condition of individual horses will be affected by individual metabolism and other factors. Therefore, feeding rates may need to be gradually adjusted in some horses according to body condition.

Caution

Store in a dry, well-ventilated area protected from rodents and insects. Do not feed moldy or insect infested feed to animals as it may cause illness, performance loss or death. USE ONLY AS DIRECTED.
Navigation
Share this page
Events & Promotions