Purina Game Bird Flight Conditioner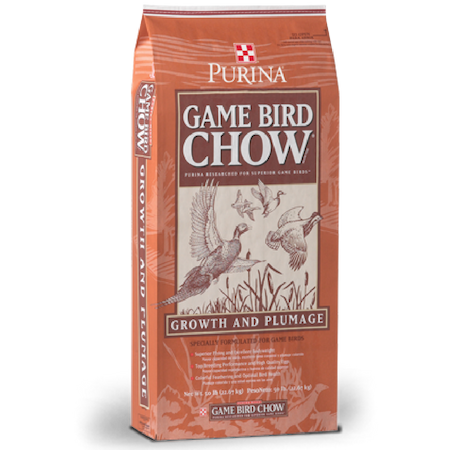 Purina Game Bird Flight Conditioner is a complete ration for conditioning pheasants, quail, chukars, ducks, guinea fowl and other exotic game birds from 6 to 16 weeks of age. This high protein, low energy diet promotes muscle and feather development in preparation for breeding or release on game reserved. Available in crumble form to encourage consumption.
Have questions? Reach out to our friendly staff at any of our local Farmer's Coop locations. Also, be sure to follow us on Facebook for product updates, news and events.
Guaranteed Analysis
Crude Protein MIN 19.00 %
Phosphorus (P) MIN 0.80 %
Feeding
Feed continuously as sole ration to game birds from 6 to 16 weeks of age or until released to keep flying birds in top condition. Then follow with Game Bird Maintenance Chow game bird feed.

Caution

Store in a dry, well-ventilated area free from rodents and insects. DO NOT use moldy or insect-infested feed.

Important

Clean, fresh water should be available to the birds at all times.  A feeding program is only as effective as the management practices followed.
Navigation
Share this page
Events & Promotions