Land O Lakes Mare's Match Foal Transition Pellets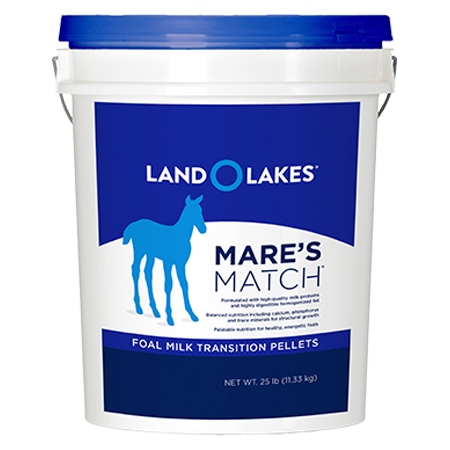 LAND O LAKES Mare's Match foal milk transition pellets are milk-based and designed to aid in the smooth transition from milk to solid feed. Offer these pellets prior to weaning to keep your foal's growth and energy on track. Mare's Match Foal Transition Pellets can also give extra nutrition to broodmares and performance horses. The Mare's Match transition pellets can provide the nutrients foals, broodmares and performance horses need, setting them up for long-term success at times when nutrition is of most important for these animals.
Maximize foal growth through enhanced nutritional support
Pellets are high palatability and can aid in the transition from milk to grain
Meet increased energy requirements of growth and performance with a highly digestible fat source
Provide balanced nutrition with necessary levels of calcium, phosphorus and trace minerals for your livestock
Have questions? Reach out to our friendly staff at any of our local Farmer's Coop locations. Also, be sure to follow us on Facebook for product updates, news and events.
Guaranteed Analysis
Feeding
Feed free choice up to 1.5-2.0 lbs. per day, depending on the age of foal. Always provide alongside fresh, clean water and quality hay, as needed.

Always keep LAND O LAKES® Mare's Match® foal milk transition pellets on-hand in case your foals need high-quality nutritional support during the weaning phase.

Navigation
Share this page
Events & Promotions