Purina Nicker Makers Horse Treats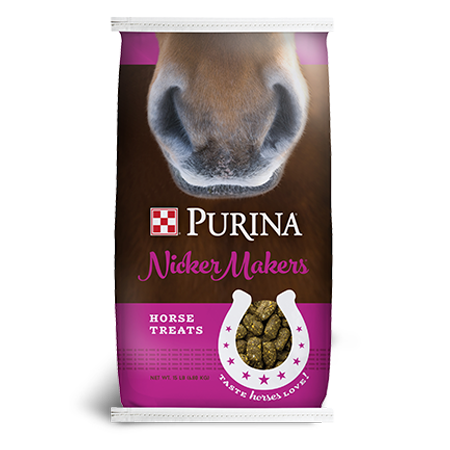 Show your love with Nicker Makers horse treats. Your horses will love the crunch and hint of molasses in every bite. They are the perfect complement to any horse feed, so you can feel good about rewarding – or spoiling – your horses.
Guaranteed Analysis
Nutrient Min/Max Amount
Crude Protein MIN 9.00%
Lysine MIN 0.30%
Crude Fat MIN 6.00%
Crude Fiber MAX 7.00%
Calcium (Ca) MIN 0.50%
Calcium (Ca) MAX 1.00%
Phosphorus (P) MIN 0.45%
Copper (Cu) MIN 35.00 PPM
Zinc (Zn) MIN 140.00 PPM
Vitamin A MIN 3000 IU/LB
Vitamin E MIN 50 IU/LB
Sodium (Na) MIN 0.01%
Sodium (Na) MAX 0.51 %
Selenium (Se) MIN 0.60 PPM
Selenium (Se) MAX 0.72 PPM
Feeding
Follow the feeding instructions / label directions. Use only as directed.
Feed as a reward or treat to adult horses. Do not feed free-choice.

Caution
Use only as directed. Do not use as a sole diet. Present treat to horse in an appropriate manner. Feeding added selenium at levels in excess of 0.3 ppm in the total diet is prohibited.

Navigation
Share this page
Events & Promotions