Purina Nature's Match Grower-Finisher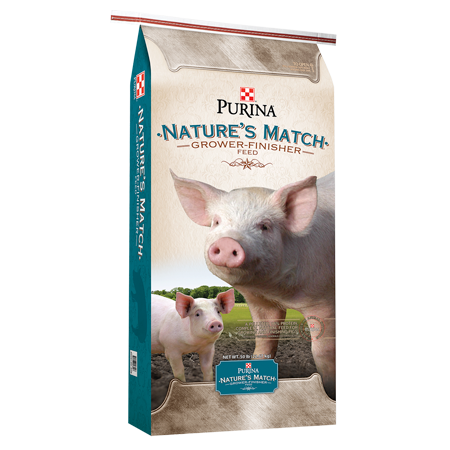 Purina Nature's Match Grower-Finisher is a complete, all-natural feed for growing-finishing pigs. It is ideal for pigs weighing between 100 and 250 pounds. This 16% protein product is formulated to provide a balanced diet to support optimal performance. It is suitable for any style of pig management. Your pigs can transition easily onto this product from Nature's Match Starter-Grower.
Have questions? Reach out to our friendly staff at any of our local Farmer's Coop locations. Also, be sure to follow us on Facebook for product updates, news and events.
Guaranteed Analysis
Nature's Match Grower-Finisher
FOR GROWING/FINISHING PIG
| | |
| --- | --- |
| CRUDE PROTEIN (MIN) |   16% |
| LYSINE (MIN) |  0.85% |
| CRUDE FAT (MIN) |  2.5% |
| CRUDE FIBER (MAX) |  5.2% |
| CALCIUM (CA) (MIN) |  0.4% |
| CALCIUM (CA) (MAX) |  0.9% |
| PHOSPHORUS (P) (MIN) |  0.45% |
| SALT (NACL) (MIN) |  0.3% |
| SALT (NACL) (MAX) |   0.8% |
| SELENIUM (SE) (MIN) |   0.30 PPM |
| ZINC (ZN), PPM, (MIN) |  125 |
| PHYTASE (A. ORYZAE), FYT/LB, (MIN) |  839 |
Feeding
Feed as directed by your local Purina Mills Feed Representative. IMPORTANT: This product is to be fed only to the animal species as directed on this label. Follow these management practices:

Provide a source of fresh, clean water and adequate drinking space per pig at all times.
Provide warm draft-free quarters with clean dry sleeping area for sows and litter.
Feeders should be well managed so as to provide adequate feeder space, prevent moisture condensation, mold and insect development.
Consult your veterinarian for recommended health programs in your local area.
CAUTION:
 Store in dry, well ventilated area protected from rodents and insects. Do not feed moldy or insect-infested feed to animals as it may cause illness or death.
Navigation
Share this page
Events & Promotions