Purina Meat Bird Crumbles, Non-Medicated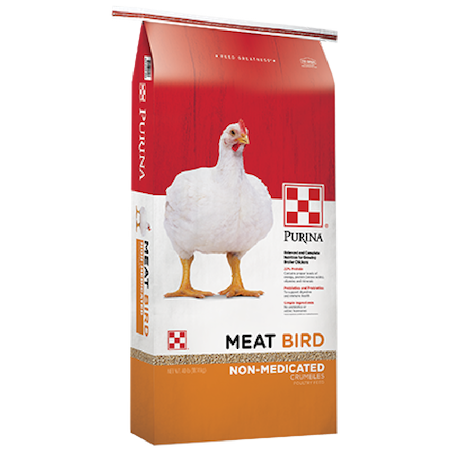 Broiler chicks require 38 different nutrients to start and grow strong. Purina Meat Bird Crumbles poultry feed is fortified with all of the nutrients required to provide for uniform growth, proper muscle development and top overall health. No supplementation is required. This is a versatile and complete feed specifically formulated for broiler chickens requiring high levels of energy and growth.
Medicated Meat Bird Crumbles also available.
Have questions? Reach out to our friendly staff at any of our local Farmer's Coop locations. Also, be sure to follow us on Facebook for product updates, news and events.
Guaranteed Analysis
Crude Protein MIN 22.00 %
Feeding

Best Results

Feed Purina Meat Bird Crumbles free-choice as the sole ration to broiler chicks from day 1 to market weight.
Most commercial meat breeds will reach harvest weight around 6 weeks of age.
Dual-purpose or heritage breed meat birds may take longer (8 to 10 weeks) to reach market weight.

Important

Store in a dry, well-ventilated area protected from rodents and insects. Do not feed moldy or insect-infested feed to animals as it may cause illness, performance loss or death. USE ONLY AS DIRECTED
Navigation
Share this page
Events & Promotions