Purina Layena Pellets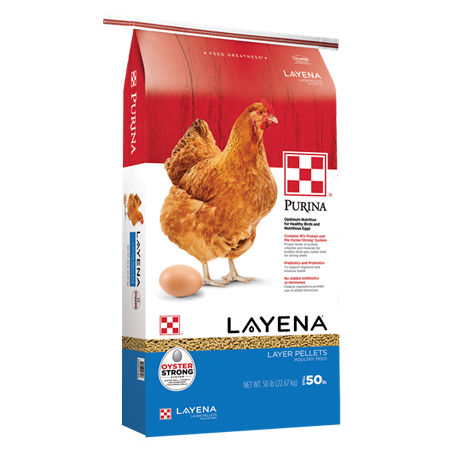 Purina Layena layer feed provides all 38 nutrients laying hens need once they're 18 weeks old and laying eggs. Feeding Purina Layena to your hens provides you with delicious and nutritious eggs that your family and community can enjoy. The exclusive Purina Oyster Strong System strengthens eggshells with added calcium from oyster shells, Vitamin D and manganese. Our pellets are wholesome and balanced, supporting reproductive and overall health with no need to supplement.
Purina Layena Layer Feed is available in pellets or crumbles. Pellets and crumbles include the same nutrition, so choosing between the two is a personal preference. Pellets are a great way to limit feed waste.
Purina Layena pellets and crumbles are available in 10 lb, 25 lb, 40 lb, and 50 lb bags.
Have questions? Reach out to our friendly staff at any of our local Farmer's Coop locations. Also, be sure to follow us on Facebook for product updates, news and events.
Guaranteed Analysis
| | |
| --- | --- |
| CRUDE PROTEIN MIN |  16% |
| LYSINE MIN |  0.7% |
| METHIONINE MIN | 0.3% |
| CRUDE FAT MIN |  2.5% |
| ASH MAX |  16.00% |
| CALCIUM (CA) MIN |  3.25% |
| CALCIUM (CA) MAX |  4.25% |
| PHOSPHORUS (P) MIN |  0.45% |
| SODIUM (NA) MIN |  0.3% |
| SODIUM (NA) MAX |  0.8% |
| MANGANESE (MN) MIN |  100 PPM |
| VITAMIN A MIN |  3000 IU/LB |
| VITAMIN E MIN |  12 IU/LB |
| PHYTASE (A. ORYZAE) MIN |  227 FYT/LB |
Feeding
Feed Purina Layena free-choice as the sole ration to laying chickens (including backyard egg producers, small to medium breeds and fancy and exotic breeds) after 18 weeks of age and throughout the laying cycle.
Purina Layena® can be fed to adult female chickens of laying age.
Always provide shelter and a constant supply of fresh, clean water.
Consumption will vary depending upon season of the year, nutritional needs of the animals and availability of other foods.
Caution
Store in a dry, well-ventilated area free from rodents and insects. Never use moldy or insect-infested feed.
Important
A feeding program is only as effective as the management practices. Actual results can vary depending upon feed intake, environmental conditions and the quality of management practices.
Navigation
Share this page
Events & Promotions