Purina Impact Mature Active Pelleted Horse Feed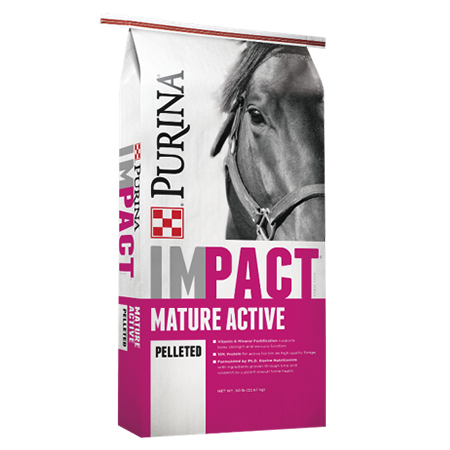 Support your horse's active lifestyle with Purina Impact Mature Active Pelleted Horse Feed. Formulated with premium nutrition which provides the necessary calories and nutrients for mature horses at maintenance through moderate activity.
With over 100 years of expertise and research in equine nutrition and a dedicated team of Ph.D. Equine Nutritionists and Equine Veterinarians, nobody knows more about horse nutrition than Purina. Impact Horse Feed is formulated to deliver premium nutrition with only high-quality ingredients that have been proven through years of feedings to support overall horse health and performance.
Offered in textured or pelleted form.
Have questions? Reach out to our friendly staff at any of our local Farmer's Coop locations. Also, be sure to follow us on Facebook for product updates, news and events.
Guaranteed Analysis
Crude Protein (Min) 10.00%
Crude Fat (Min) 6.00%
Crude Fiber (Max) 12.50%
Acid Detergent Fiber (ADF) (Max) 16.50%
Neutral Detergent Fiber (NDF) (Max) 34.00%
Calcium (Ca) (Min) 0.70%.
Calcium (Ca) (Max) 1.20%
Phosphorus (P) (Min)0.50%
Copper (Cu) (Min) 55.00 ppm
Selenium (Se) (Min)0.60 ppm
Zinc (Zn) (Min) 220.00 ppm
Vitamin A (Min)3,000 IU/lb
Feeding
Feed according to directions on bag.
Navigation
Share this page
Events & Promotions