Purina Farm to Flock High Protein Hen Treats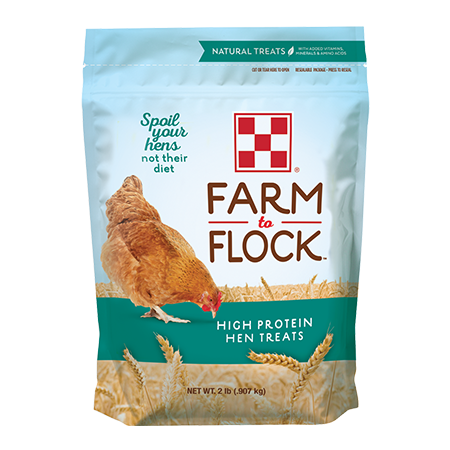 Purina Farm to Flock High Protein Treats are deliciously made and served up in a fun bite-sized shape that your birds will love. Treats like scratch grains, mealworms, and kitchen scraps are like candy for birds; fun to eat and a nice treat, but you wouldn't want to make a meal of them.
Purina Farm to Flock Treats offer essential nutrients your birds need so you can go ahead and spoil them without any guilt. Your girls will get a well-balanced mix of grains, vitamins and minerals in every delightful bite. This high-protein option helps give a nutritional boost, especially during molt when birds need additional protein.
The maker of Farm to Flock Treats is operated by an American farmer-owned company who shares your values. Your flock's nutrition is our top priority. The hens at our farm love Farm to Flock Treats, so we trust yours will too.
Have questions? Reach out to our friendly staff at any of our local Farmer's Coop locations. Also, be sure to follow us on Facebook for product updates, news and events.
Guaranteed Analysis
Crude Protein MIN 20.00 %
Phosphorus (P) MIN 0.70 %
Feeding
Feed as a treat to adult hens up to 2 tablespoons per bird daily. Feed along with a complete and balanced Purina Poultry diet.

Caution

Use only as directed. Do not use as a sole diet. Store in a dry, well-ventilated area protected from rodents and insects. Do not feed moldy or insect-infested feed to animals as it may cause illness, performance loss, or death.
Navigation
Share this page
Events & Promotions