Purina Country Acres Ranch Hand 14 Cattle Feed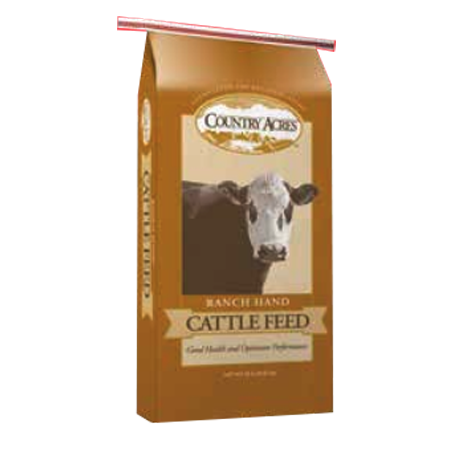 Ranch Hand 14 Cattle cubes and pellets are designed to supplement protein and energy to all stages of cattle on pasture. This feed provides flexibility to choose supplements and feeding rates. Ranch Hand 14 Cattle Feed is ideal for producers who prefer using only vegetable proteins.
Increases low-quality forage intake and utilization.
Allows producer to choose mineral program based on mineral needs of the herd.
Extra vitamin A for improved animal health and performance.
Have questions? Reach out to our friendly staff at any of our local Farmer's Coop locations. Also, be sure to follow us on Facebook for product updates, news and events.
Guaranteed Analysis
Crude Protein, (Min) 14.00%
Crude Fat, (Min) 2.00%
Crude Fiber, (Max) 11.00%
Calcium (Ca), (Min) 2.00%
Calcium (Ca), (Max) 2.50%
Phosphorus (P), (Min) 0.50%
Salt (NaCl), (Min) 1.25%
Salt (NaCl), (Max) 1.75%
Potassium (K), (Min) 0.75%
Selenium (Se), (Min) 0.30 ppm
Vitamin A, (Min)10,000 IU/lb
Feeding
Feed to stocker and growing cattle at 0.25 to 2% of body weight along with adequate quantities of forage. The amount fed will depend on forage quality and desired gain.
A free-choice mineral such as Wind &Rain® Storm Mineral must be used with this feed to provide trace minerals and extra vitamins. Feed to cattle as needed to supplement roughage based diets. Always provide adequate quantities of good quality forage and water daily
Navigation
Share this page
Events & Promotions