Purina Amplify High-Fat Horse Supplement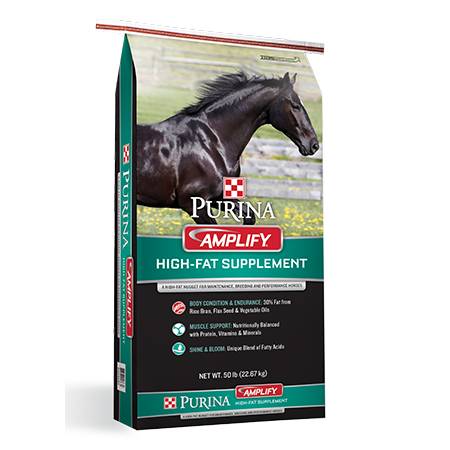 Purina Amplify High-Fat Horse Supplement helps hard-working horses maintain their weight with a concentrated source of calories that can be added to the daily ration. Horses with increased energy requirements can benefit from the high-calorie and easy-to-digest Amplify formula. This formula is ideal for competition horses, horses being prepped for sale, breeding stallions, and gestating and lactating mares. We recommend supplementing your horse's diet with this high-fat, controlled-starch nugget when additional calories are needed. As a result, they will more readily maintain body condition, performance and shine.
Have questions about Purina Amplify High-Fat Horse Supplement? Reach out to our friendly staff at any of our local Farmer's Coop locations. Also, be sure to follow us on Facebook for product updates, news and events.
Guaranteed Analysis
Crude Protein (Min) 14.00%
Crude Fat (Min) 30.00%
Crude Fiber (Max) 5.50%
Starch (Max) 14.50%
Sugars (Max) 5.00%
Calcium (Ca) (Min) 1.00%
Calcium (Ca) (Max) 1.50%
Phosphorus (P) (Min) 0.60%
Sodium (Na) (Min) 0.10%
Sodium (Na) (Max) 0.60%
Copper (Cu) (Min) 60.00 ppm
Selenium (Se) (Min) 0.60 ppm
Selenium (Se) (Max) 0.72 ppm
Zinc (Zn) (Min) 220.00 ppm
Vitamin A (Min) 3,000.00 IU/lb
Vitamin E (Min) 200.00 IU/lb
Ash (Max) 12.00%
Feeding
Begin with 1 lb per day feeding rate, gradually increase by .5 lb/day every 2 days until the desired feeding rates are achieved. Begin feeding 60 days prior to competition, sale, show or breeding season. Maximum feeding rate for most horses should be 4 lbs of Purina® Amplify® Supplement per day. Horses have varying acceptance of higher fat diets and supplements and as the fat level in the diet is increased, some horses may begin to show diminished intake. If that occurs, reduce the feeding rate or try blending Amplify® Supplement with a small amount of sweet feed. When fed as recommended, Purina® Amplify® Supplement will provide no more than 0.3 ppm selenium to the total diet. For horses sensitive to dietary soluble carbohydrates, please consult with a veterinarian or nutritionist for a recommended diet.
Navigation
Share this page
Events & Promotions