Land O' Lakes Electrolyte Base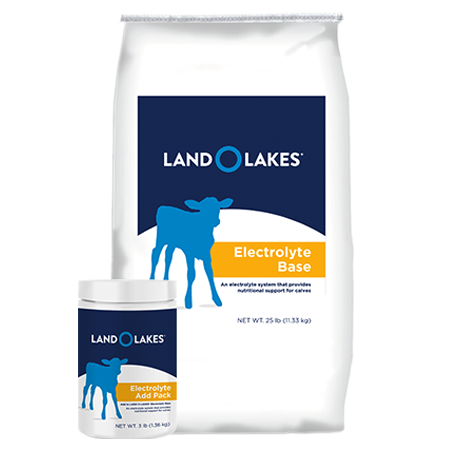 Land O Lakes Electrolyte Base is a two part, cost-effective program designed to proactively address the effects of scours, electrolyte loss, nutrition and dehydration in calves through early intervention (Base) and, if needed, treatment.
Have questions? Reach out to our friendly staff at any of our local Farmer's Coop locations. Also, be sure to follow us on Facebook for product updates, news and events.
Guaranteed Analysis
Feeding
Mix LAND O LAKES Electrolyte System with 110-120° F water. Feed in-between milk or milk replacer feedings at 100-105°F. The Base is yellow and the Add Pack is orange so you can quickly see what each calf is receiving.

Best Results

Use a thermometer to check water temperature. Only use low sodium water (<50 ppm) for mixing electrolytes. Don't mix calf electrolytes with milk or milk replacer.
Navigation
Share this page
Events & Promotions