Purina Free Balance 12:12 Vitamin & Mineral Supplement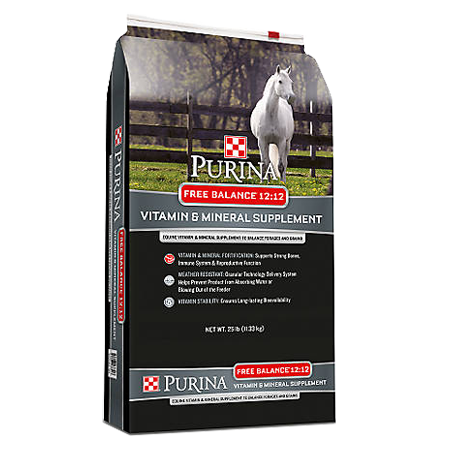 Purina Free Balance 12:12 Vitamin & Mineral Supplement provides the added vitamins and minerals needed to balance a pasture or hay-only diet. Today's forages and whole grains can have inadequate and inconsistent nutrient values. Help your horses achieve the nutritional balance they once derived naturally with Purina Free Balance supplement.
Purina Free Balance 12:12 supplement is also available as a block.
Have questions? Reach out to our friendly staff at any of our local Farmer's Coop locations. Also, be sure to follow us on Facebook for product updates, news and events.
Guaranteed Analysis
Phosphorus (P) MIN 12.00 %
Copper (Cu) MIN 1,740 PPM
Vitamin A MIN 80,000 IU/LB
Vitamin D3 MIN 8,000 IU/LB
Vitamin E MIN 1,400 IU/LB
Iron (Fe) MIN 4,300.00 PPM
Magnesium (Mg) MIN 1.20 %
Manganese (Mn) MIN 3,400 PPM
Selenium (Se) MIN 35.00 PPM
Feeding

Best Results


Provide a minimum of 1 pound per 100 pounds body weight per day of hay or the equivalent in pasture.

40-Pound Block Feed free choice in covered feeders to provide approximately 2 ounces per head per day throughout the year.

Measured Horse Feeding (25-pound bag) Use the scoop provided to top-dress 2 ounces once daily per horse onto regular grain or concentrate.

Free Choice (25-pound bag) Set Free Balance® 12:12 Vitamin & Mineral Supplement in a large tub or mineral feeder under shelter or in a run-in shed. Research shows horses consume, on average, 2 ounces per head per day. Horses will eat more than the average some days and less on other days. Some horses will over consume this supplement when first given free choice. If excessive consumption (more than 4 ounces/day) occurs for longer than two days, remove the supplement for two days, then return to free choice. If overconsumption still occurs, follow directions for measured feeding.



Caution

Follow label directions. Feeding added selenium at levels in excess of 0.3 ppm in the total diet is prohibited. When fed as recommended, Free Balance® 12:12 Vitamin & Mineral Supplement will provide no more than 0.3 ppm selenium to the total diet. Store in a dry, well-ventilated area protected from rodents and insects. Do not feed moldy or insect-infested feed as it may cause illness or death. This product was made in a feed manufacturing facility that does not handle or store products containing animal proteins prohibited in ruminant feed.
Navigation
Share this page
Events & Promotions