Purina WellSolve W/C Horse Feed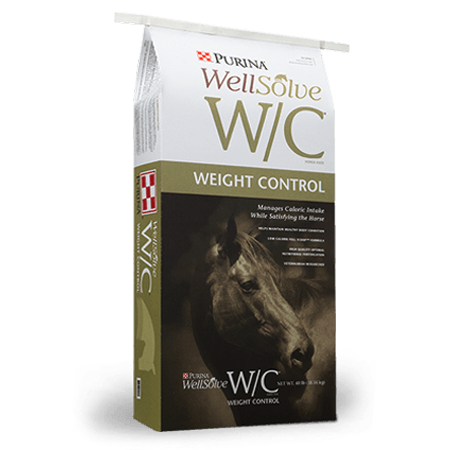 Purina WellSolve W/C Horse Feed has added antioxidants to help support a healthy immune system, concentrate feed, ideal level of digestable energy helps manage caloric intake and weight control while maintaining a healthy body condition, less than 1,000 calories/pound, low calorie full scoop formula, no added fat with enough naturally occurring fatty acids for the fat-soluble vitamin absorption a horse needs, no molasses or grain, and veterinarian researched.
Have questions? Reach out to our friendly staff at any of our local Farmer's Coop locations. Also, be sure to follow us on Facebook for product updates, news and events.
Guaranteed Analysis
Crude Protein MIN 12.00 %
Phosphorus (P) MIN 0.60 %
Copper (Cu) MIN 65.00 PPM
Magnesium (Mg) MIN 0.30 %
Selenium (Se) MIN 0.60 PPM
Neutral Detergent Fiber (NDF) MAX 50.00 %
Acid Detergent Fiber (ADF) MAX 29.00 %
Feeding
For Weight Loss, Along with Hay*
|
Weight of Horse in Pounds
Lifestyle
400
600
800
1000
1200
1400
1600
1800
2000
2200
Maintenance
2.0
3.0
3.0
3.5
4.0
4.5
5.0
5.5
6.0
6.0
Light Work **
3.0
4.0
5.0
6.0
6.5
7.5
7.5
7.5
8.0
8.0
Breeding Stallions
3.0
4.0
5.0
6.0
6.5
7.5
7.5
7.5
8.0
8.0
Pregnant and Lactating Mares***
See notes below
For Maintenance, Along with Hay*
|
Weight of Horse in Pounds
Lifestyle
400
600
800
1000
1200
1400
1600
1800
2000
2200
Maintenance
4.0
5.0
6.0
7.0
8.0
8.0
8.0
8.0
8.0
8.0
Light Work **
5.0
6.5
8.0
9.5
11.0
12.0
12.5
13.0
13.0
13.0
Breeding Stallions
5.0
6.5
8.0
9.5
11.0
12.0
12.5
13.0
13.0
13.0
Pregnant Mares (1–8 months)
4.0
5.0
6.0
7.0
8.0
8.0
8.0
8.0
8.0
8.0
Pregnant Mares (Last 90 days)
5.0
7.0
7.5
8.5
10.0
11.0
11.0
11.5
11.5
11.5
Lactating Mares ***
See notes below
Navigation
Share this page
Events & Promotions