Purina Layena+ Free Range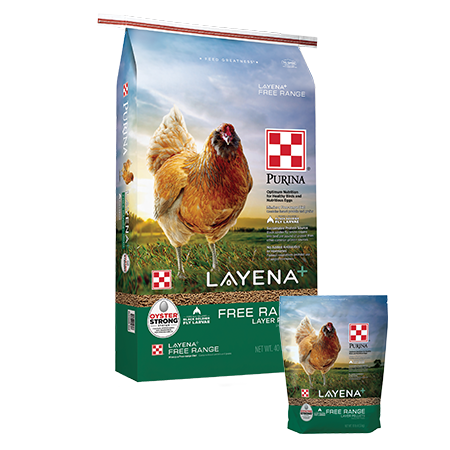 Chickens love free-ranging and eat nutritious insects when roaming the backyard. But free-ranging is not always possible. Purina Layena+ Free Range Layer Feed is made with grains and insect protein so hens can enjoy a sustainable, free-range diet no matter the weather or where they live.
Purina Layena+ Free Range Layer Feed is available in 10 lb. and 40 lb. bags.
Have questions? Reach out to our friendly staff at any of our local Farmer's Coop locations. Also, be sure to follow us on Facebook for product updates, news and events.
Guaranteed Analysis
Crude Protein MIN 16.00 %
Ash MAX 12.50 %
Lysine MIN 0.70 %
Crude Fat MIN 2.50 %
Crude Fiber MAX 7.00 %
Calcium (Ca) MIN 3.25 %
Calcium (Ca) MAX 4.25 %
Phosphorus (P) MIN 0.45 %
Vitamin A MIN 3,000 IU/LB
Vitamin D3 MIN 800 IU/LB
Vitamin E MIN 12 IU/LB
Manganese (Mn) MIN 100 PPM
Methionine MIN 0.30 %
Sodium (Na) MIN 0.30 %
Sodium (Na) MAX 0.80 %
Feeding
Feed Purina Layena+ Free Range Layer Feed free-choice as the sole ration to laying chickens after 18 weeks of age and throughout the laying cycle. It is not necessary to provide additional grain or a free-choice calcium source. Layer feeds should not be fed to male birds of any age or to birds less than 18 weeks old. Provide fresh clean water at all times.

Caution Store in a dry, well-ventilated area protected from rodents and insects. Do not feed moldy or insect-infested feed to animals as it may cause illness, performance loss, or death. USE ONLY AS DIRECTED.

Important Follow sound management practices and disease and sanitation control measures. If any questions, contact your veterinarian or salesperson. Contains a source of live (viable) naturally occurring microorganisms.
Navigation
Share this page
Events & Promotions