Purina Honor Showpig Finale 809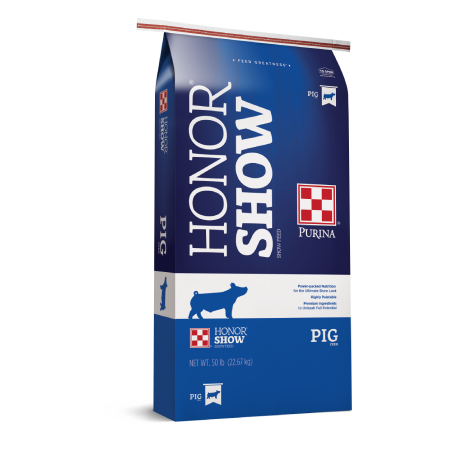 Honor Show Chow FINALE 809 feed is a moderate protein, high-energy feed developed for growing/finishing pigs (adding cover and body) from 100 lbs. all the way to show. Formulated for ultra-modern show pigs needing muscle, cover and body, FINALE 809 feed is a 16% protein, 7.5% crude fat, 0.85% lysine feed in a 3/32" pellet designed for greater intake. New and improved SHOWPIG 809 now formulated with exclusive Ambitine feed technology to support proper gut health and feed intake. Honor Show Chow FINALE 809 feed is supported by Purina. Get your pigs on FINALE 809 feed today so you can unleash your genetic investment.
Guaranteed Analysis
Crude protein, % (min) 16.00
Lysine, % (min) 0.85
Crude fat, % (min) 7.50
Crude fiber, % (min) 6.00
Calcium, % (Ca) (min) 0.40
Calcium, % (Ca) (max) 0.90
Phosphorous, % (P) (min) 0.50
Salt, % (NaCl) (min) 0.30
Salt, % (NaCl) (max) 0.80
Selenium, ppm (Se) (min) 0.30 ppm
Zinc, ppm (Zn) (min) 240 ppm
Feeding
Feed to continuously to show pigs from 100 lbs to show.

Caution: DO NOT FEED TO SHEEP DUE TO HIGH LEVELS OF COPPER.

Special Considerations: Store in a dry, well-ventilated area protected from rodents and insects. Do not feed moldy or insect-infested feed to animals as it may cause illness, performance loss or death. USE ONLY AS DIRECTED.

Navigation
Share this page
Events & Promotions