Purina Honor Show Poultry Starter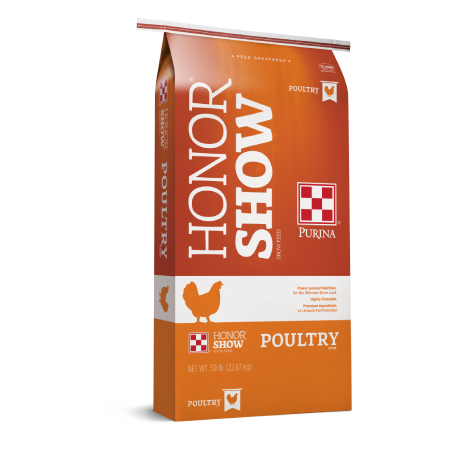 Purina's Poultry Starter is a nutritionally complete and balanced ration for broilers. It is ideal for feeding from 8 through 35 days of age. It is also suitable for turkeys from 5 through 16 weeks of age. This 26% protein diet is designed to continue the development of chickens and turkeys to their full genetic potential for shows.
This show starter feed can be preceded by Honor Show Poultry Prestarter and followed by Honor Show Poultry Grow-Fin to prepare birds for show. Honor Show Poultry Starter is supported by Purina's knowledge, experience and research.
Have questions? Reach out to our friendly staff at any of our local Farmer's Coop locations. Also, be sure to follow us on Facebook for product updates, news and events.
Guaranteed Analysis
Crude Protein MIN 26.00 %
Phosphorus (P) MIN 0.80 %
Phytase (A. Oryzae) MIN 227 FYT/lb
Feeding
Blend the HSC Poultry feeds in 20-lb batches according to the instructions shown on bag.

Do not use in feeds containing bentonite. Store in a dry, well-ventilated area protected from rodents and insects. Do not feed moldy or insect-infested feed to animals as it may cause illness, performance loss or death. USE ONLY AS DIRECTED
Navigation
Share this page
Events & Promotions