Purina Honor Show Chow Prelude 309 DEN35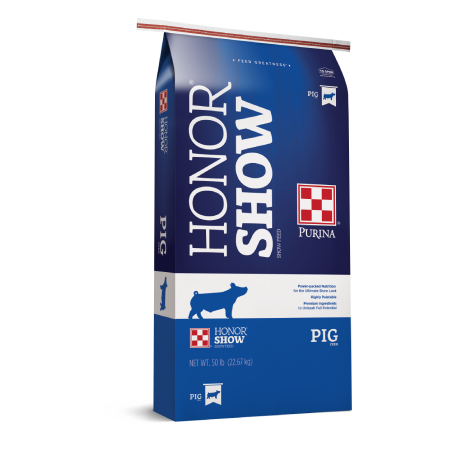 Honor Show Chow PRELUDE 309 DEN35 is designed to be fed to pigs weighing 16 to 25 lbs. It is also suitable to be fed to heavier pigs. Offer PRELUDE 309 DEN35 feed as a phase 2 pig starter when pigs are about 28 days of age or weigh 16 lbs. Honor Show Chow PRELUDE feed is supported by Purina. Get your newly weaned pigs on the PRELUDE program today to Unleash Your Genetic Investment.
Have questions? Reach out to our friendly staff at any of our local Farmer's Coop locations. Also, be sure to follow us on Facebook for product updates, news and events.
Guaranteed Analysis
Crude protein, % (min) 20.00
Lysine, % (min) 1.50
Crude fat, % (min) 8.00
Crude fiber, % (min) 2.50
Calcium, % (Ca) (min) 0.65
Calcium, % (Ca) (max) 1.15
Phosphorous, % (P) (min) 0.60
Salt, % (NaCl) (min) 0.55
Salt, % (NaCl) (max) 1.05
Selenium, ppm (Se) (min) 0.30 ppm
Zinc, ppm (Zn) (min) 3,000 ppm
Feeding
Offer Honor Show Chow PRELUDE 309 DEN35 to pigs weighing 16 to 25 lbs in bodyweight.

Warning: Withdraw medicated feed 2 days before slaughter following use at 35g/ton. Protect from excessive temperatures (Temperatures that exceed 40° Celsius or 104° Fahrenheit). Do not store at warm temperatures up to 104° Fahrenheit (40° Celsius) for more than 7 days.

Caution: Use as the only source of tiamulin. For swine use only. The effects of tiamulin on swine reproductive performance, pregnancy and lactation have not been determined. Swine being treated with tiamulin should not have access to feeds containing polyether ionophores (e.g., lasalocid, monensin, narasin, salinomycin and semduramicin) as adverse reactions may occur. If signs of toxicity occur, discontinue use of medicated feed.

DO NOT FEED TO SHEEP DUE TO HIGH LEVELS OF COPPER.

Special Considerations: Store in a dry, well-ventilated area protected from rodents and insects. Do not feed moldy or insect-infested feed to animals as it may cause illness, performance loss or death. USE ONLY AS DIRECTED.

Navigation
Share this page
Events & Promotions