Purina Honor Show Chow Finale 909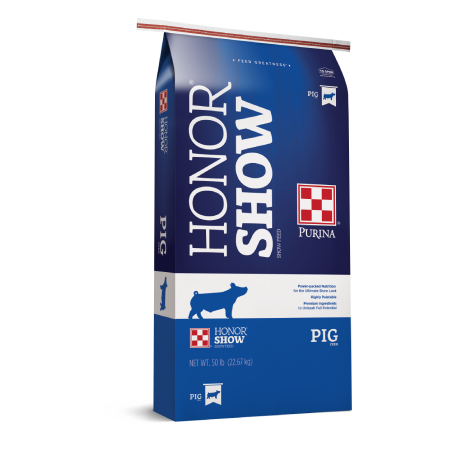 Honor Show Chow FINALE 909 a.k.a. Magic Bullet feed has been redesigned as an extremely high carb show pig feed. It is an ideal choice to finish pigs for show. FINALE 909 is now a high-energy feed developed for growing, developing, and finishing show pigs and can be fed to pigs from 50 lbs. to show.
This product has been reformulated to help produce a fuller, bigger, more robust appearance.  FINALE 909 is best fed when preceded by a high fat diet. However this feed works well no matter what precedes it. Magic Bullet also works well with our full line of HIGH OCTANE supplements.  It is a great feed choice when more help is needed in specific areas of the pig. Plus, FINALE 909 is a 17% protein, 6% fat, 1.05% Lysine feed in a MEAL form designed for feeding versatility and greater intake.
You be confident in Honor Show Chow FINALE 909's ability to make a difference in your pig. They once said there is no such thing as a Magic Bullet for getting into the show ring…they were wrong. Get your show pigs on Honor Show Chow FINALE 909 today and unleash your animal's genetic potential.
Have questions? Reach out to our friendly staff at any of our local Farmer's Coop locations. Also, be sure to follow us on Facebook for product updates, news and events.
Guaranteed Analysis
Crude protein, % (min) 17.00
Lysine, % (min) 1.05
Crude fat, % (min) 6.00
Crude fiber, % (min) 6.50
Calcium, % (Ca) (min) 0.52
Calcium, % (Ca) (max) 1.02
Phosphorous, % (P) (min) 0.55
Salt, % (NaCl) (max) 0.29
Salt, % (NaCl) (min) 0.79
Selenium, ppm (Se) (min) 0.30
Zinc, ppm (Zn) (min) 240
Feeding
Feed Honor Show Chow FINALE® 909 a.k.a. Magic Bullet at 6 to 8 pounds per day to pigs being fed for show from 50 pounds to show weight. Also allow free access to plenty of clean, fresh water.

Caution: DO NOT FEED TO SHEEP DUE TO HIGH LEVELS OF COPPER.

Special Considerations: Store in a dry, well-ventilated area protected from rodents and insects. Do not feed moldy or insect-infested feed to animals as it may cause illness, performance loss or death.

Navigation
Share this page
Events & Promotions