Land O' Lakes ProNurse Specialty Milk Replacer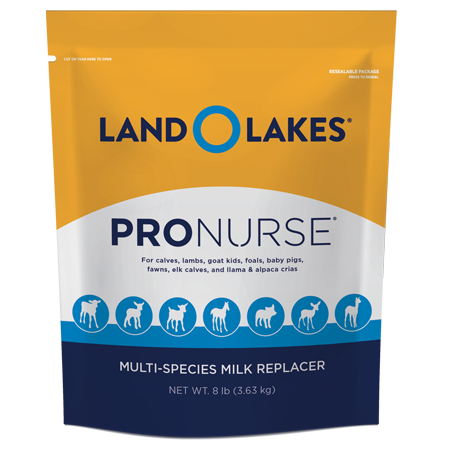 Land O' Lakes ProNurse Specialty Milk Replacer is a multi-species milk replacer. It is formulated to provide the nutrients essential for early development. As a result, it gives your newborn animals the start they deserve.
ProNurse Specialty Milk Replacer is recommended for calves, lambs, goat kids, baby pigs, fawns, elks calves, llamas, alpacas, and foals. Pro-Nurse is made with a balance of highly digestible proteins, fats and carbohydrates. Plus, it is fortified with 26 essential vitamins and minerals. This easy-to-mix milk replacer is packaged in a resealable pouch.
Have questions? Reach out to our friendly staff at any of our local Farmer's Coop locations. Also, be sure to follow us on Facebook for product updates, news and events.
Guaranteed Analysis
Crude Protein MIN 24.00 %
Phosphorus (P) MIN 0.80 %
Copper (Cu) MIN 10.00 PPM
Copper (Cu) MAX 15.00 PPM
Vitamin A MIN 30,000 IU/LB
Vitamin D3 MIN 5,000 IU/LB
Selenium (Se) MIN 0.30 PPM
Feeding

For best mixing, mix the dry powder with warm water (120°F). The enclosed plastic measuring device (referred to later as "measure") holds approximately 0.25 lb. of dry powder. Always weigh ProNurse powder for accurate mixing. Use a standard liquid measure for water.

See product label for specific species feeding directions.

Individual animals vary in requirements. Adjust amounts fed according to body weight and appetite. Consult with your veterinarian if you have questions. Feed colostrum for the first 24 hours of life, or use an appropriate colostrum replacer as directed by your veterinarian.



Important

Always feed fresh, clean water free-choice and appropriate high quality creep feed.
Navigation
Share this page
Events & Promotions